Main content starts here, tab to start navigating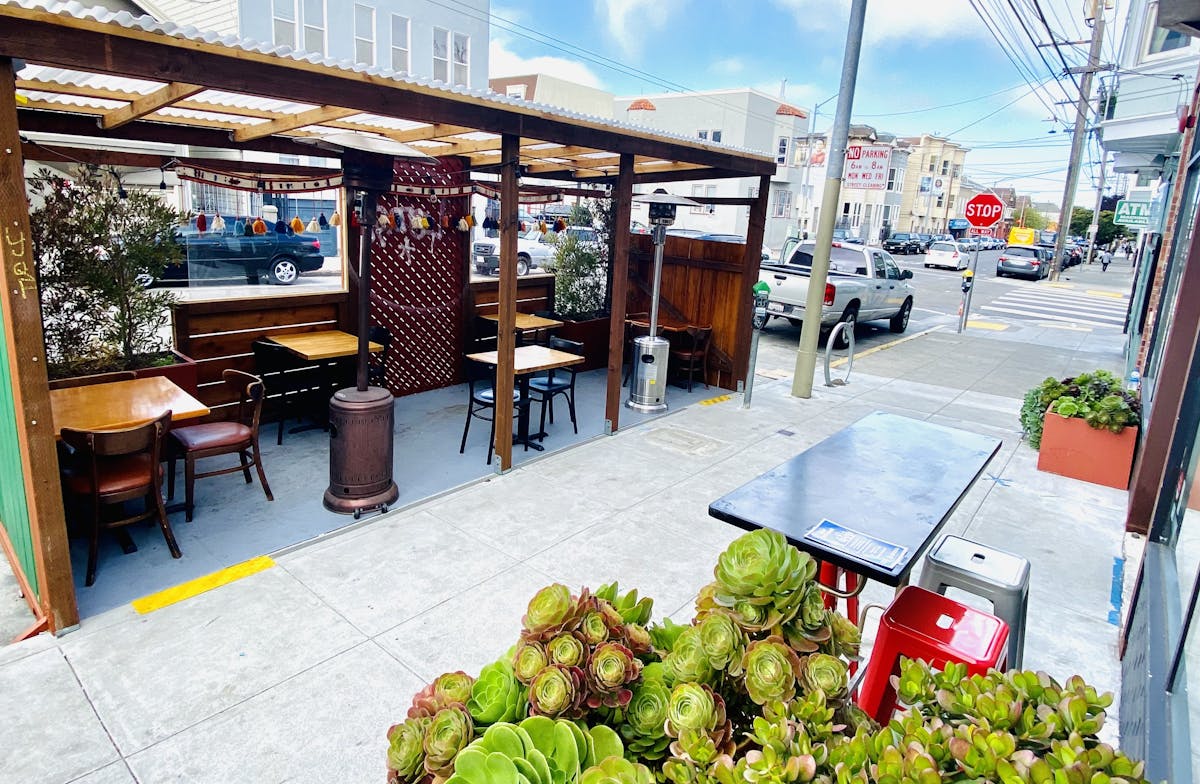 Slide 1 of 3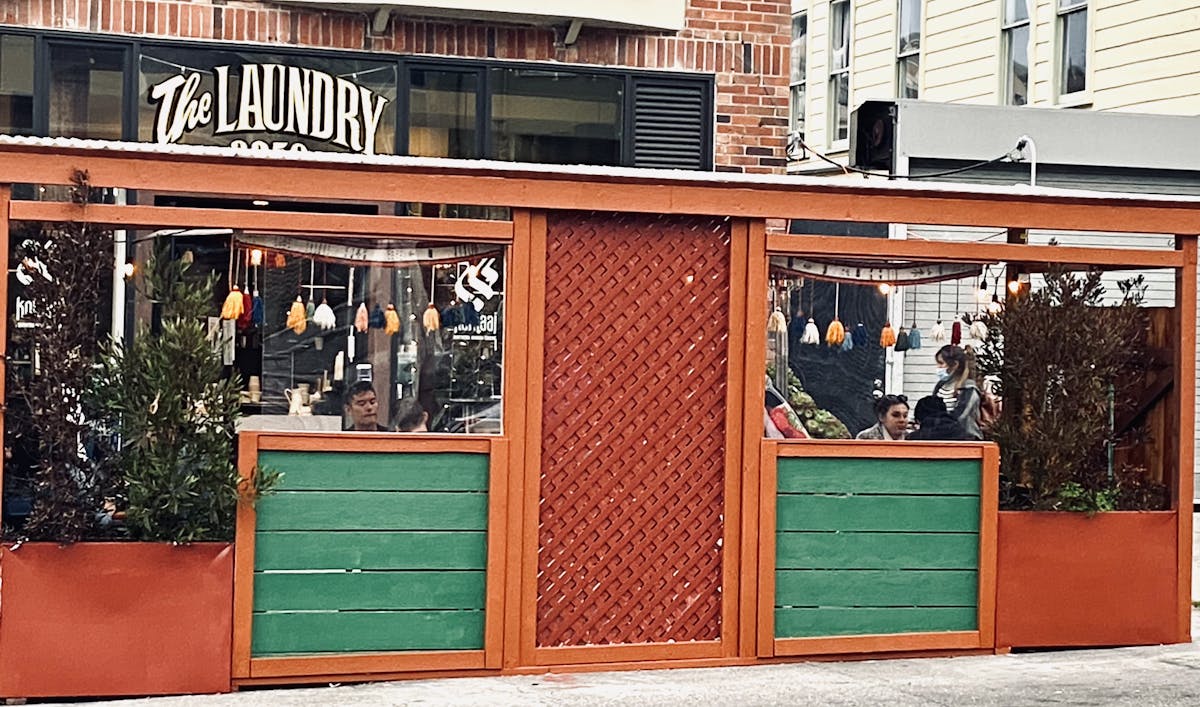 Slide 2 of 3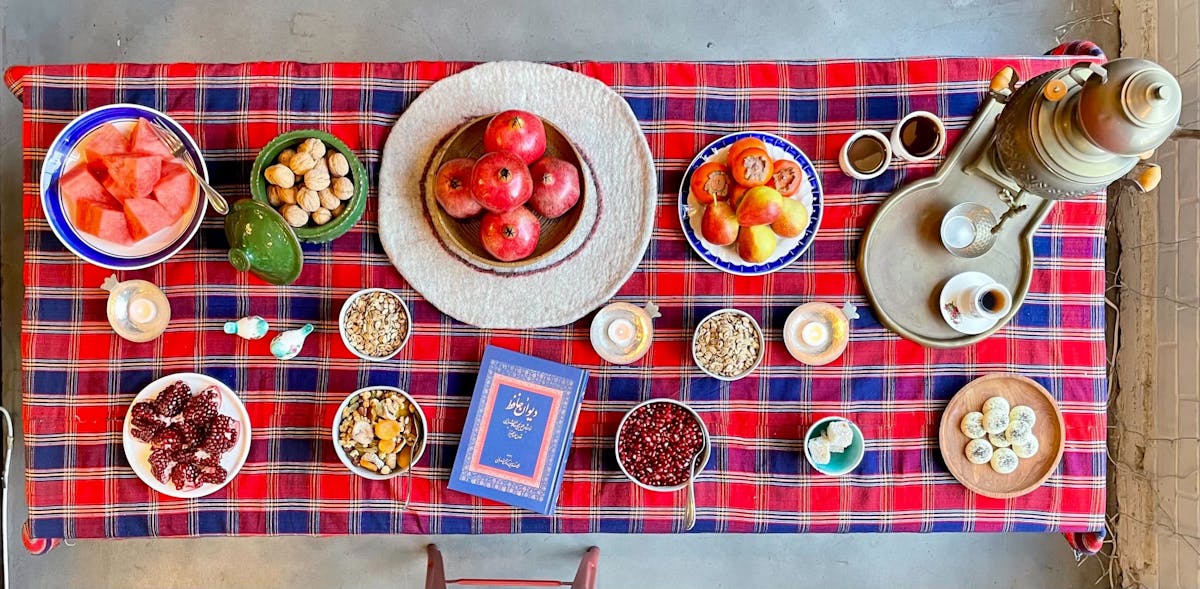 Slide 3 of 3
Menus
Mazze Menu / Only Take out / New Year Special
Komaaj Kitchen would love to offer the Mazze Menu at-Home kit as a starter for your party or gathering. With only Vegan / Vegetarian Items in this 4-pack Mazze menu, everyone will find a couple of Options with different flavor profiles to enjoy with their drinks! This menu will serve 6-8 people.
4 Pack Mazze Menu

Naz Khatoon / Eggplant - Walnut dip (16 oz) Zeitun Parvardeh / Marinated Olives (16 oz) Maast Labou / Beet Yogurt (16 oz) Shevid Baghala / Fava beans & Dill dip. Comes with Sangak crackers, Persian cucumbers & carrot sticks

$85

vegetarian, vegan
Wednesday Happy Hour
New Mazzeh platter menu and $3 off house wine starting August 3. On Wednesdays, the regular menu is not available.
Roudbar Platter

Naz Khatoun, Sumac Labneh, Marinated Olives, Cucumber Salad. Serves with 8 pieces of Sangak bread.

$29

gluten free, vegetarian, vegan

House White

Do What you love

$10

House Red

Do What you love

$10

Eggplant & Tomato stew
Salads & Starters
For dinners at the restaurant, all dips come with toasted Sangak flatbread, but not for takeout orders.
Cucumber salad / Khiaar Dalar

Persian cucumbers, radish, barberries and komaaj seeds mix with Dalar dressing (fermented herbs paste, olive oil, vinegar and sunflower seeds).

$9.50

gluten free, vegan

Lettuce Salad

Romaine lettuce, Radish, pumpkin Seeds, Sekanjbin dressing (Mint syrup, pomegranate vinegar, fermented herb paste and olive oil)

$12

gluten free, vegan

Naz Khatoun Dip

Roasted Eggplant, Walnut, Herbs, Pomegranate juice & vinegar.

$13

gluten free, vegan

Marinated Olives / Zeitoun Parvardeh

Green olives, walnuts, pomegranate molasses, herb paste, Persian hogweed and olive oil.

$9

gluten free, vegan

Marinated Cheese / Panir Khiki

Aged goat cheese with dried wild Nettle, Nigella seeds, Hemp seeds, smoked salt and olive oil

$10

peanut free, tree nut free, gluten free, vegetarian

Herbed cheese / Panir parvardeh

Feta cheese, cream cheese, dill, tarragon, parsley, chives, walnut, Persian hogweed and olive oil. Comes with 3 pieces flat bread (Sangak).

$10

vegetarian

Sumac Labneh

Labneh with sumac, mint, olive oil and Komaaj seeds mix. Comes with 3 pieces flat bread (Sangak).

$9

vegetarian

Beet yogurt / Maast O Labou

Red beet, sumac, plain yogurt, labneh, whey, basil, mint and olive oil. Comes with 3 pieces flat bread (Sangak).

$11

vegetarian
Fish Dishes
Smoked Salmon Belly / Maahi Azad doudi

Sumac and olive oil roasted salmon belly with yogurt sauce and Sangak bread

$24

Smoked trout / Maahi doudi

Pomegranate molasses glazed smoked trout (1/2 fillet) with pickles, Sangak bread with bowl of turmeric rice

$19.50

gluten free

Saffron White Sardines (Maahi Zaferani)

Saffron and olive oil glazed boneless wild sardines with pickles and Sangak bread

$14

gluten free
Dishes
We are so excited to try this new product Plant-based lamb meatballs from Black Sheep Foods "vegan lamb meatball"
Sour Chicken & Rice / Morgheh Torsh

Turmeric roasted chicken thigh with walnut and herbs stew. Comes with half portion turmeric rice, fresh herbs and radish.

$27.50

gluten free

Black sheep lamb meatball & Pomegranate Stew

Plant-based lamb meatballs from Black Sheep Foods. Serves with turmeric rice, pickles & herbs

$25.50

gluten free, vegan

Pomegranate and walnut stew & Rice / Vegan Anaarbij

Herbs, walnut, pomegranate molasses with sumac roasted chickpeas and barberries. Comes with turmeric rice, fresh herbs and radish.

$23

gluten free, vegan

Eggplant & Tomato Stew / Mirzaghasemi

Fire roasted eggplant, tomato and garlic stew with fresh herbs comes with turmeric rice.

$19.50

gluten free, vegan

Turmeric rice / Katte Zard

Basmati rice cooked with turmeric, garlic and olive oil serves with pickles, radish and fresh herbs.

$8

gluten free, vegan

Herb Rice & turmeric chicken / Sabzi Polo Morgh

ONLY SATURDAY & SUNDAY

$23.50

gluten free

Herb rice / Sabzi Katte (Only Saturday & Sunday)

Rice cooked with dill, chives, parsley and butter served with pickles, radish, and labneh.

$9

gluten free, vegetarian
Soft Drinks
Rose Black Tea / Chai Gole Rose

Serves Hot

$4.50

Herbal Tea (Borage Flower)

Serves Hot

$4.50

Sekanjebin Sharbat / Mint & Vinegar sweet drink

Mint, Vinegar, Sugar, Honey and Water. This old Iranian sweet drink of honey and vinegar syrup is a perfect summer drink and believed to detoxify your body and quench your thirst

$7

Zafferon-Golaab Saffron & Rose Water Sharbat

Iranian Saffron, Rose Water, Sugar and Water/ Clod & Sweet

$7.50

Pomegranate Juice

$7

Doogh / Yogurt Drink

$7

Sparkling Botanical Tea / Grapefruit Quince

Carbonated Water,, Quince, Hibiscus, Orange peel, Lemongrass, Strawberry, Grapefruit peel, Yuzu Juice, Natural grapefruit extract

$9
Beer & Wines
SHAMS / Pilsner

Hand-made artisan craft beer with a clean and refreshing taste brewed in the "Land of the Free" to celebrate the "Golden Age" of Persian beer making.

$9

2021 Do what you love / Red & White

Grapes: 60% Cinsault / 40% Cabernet Sauvignon Region/Country: Wellington, South Africa Flavor: Bramble red fruits, fresh but structured (no oak flavor), dried herbs

$14

$45
Dessert
Rice Cookie / Naan Berenji (Dessert)

5 pieces

$5
Add Ons
Whole wheat bread / Naan Sangak - 5 pieces

$4.50
Komaaj Lab products
Dalar / Fermented herbs paste

Mint, cilantro, savory, and salt. 8oz Glass Jar

$9

tree nut free, gluten free, vegan

Rose Black Tea / Chai Gole Rose

16oz container

$12

Borage Flower Tea

16oz Container

$12

Orange blossom black tea / Chai Bahar Narenj

16oz container

$12

Namak Golpar / Persian Hogweed Salt

2oz spice container

$7

Namak Somagh / Sumac Salt

2oz spice container

$7

Advieh Kabab / Grilling Spice Blend

2oz spice container

$7

Panj Tokhmeh / Seeds Mix

2oz spice container

$7

Iranian Herb Salt / Namak Sabz

2oz Spice container

$7
YALDA Special Menu / Dec21 to 23
Yalda is the Iranian celebration of the winter solstice. We are celebrating Yalda with special pre-fixed menu
Anaar Polo / Yalda special

Chicken thighs, pomegranate seeds and onion stew. Served with turmeric rice, fresh herbs, Radish and pickles.

$25

gluten free

Kaale Seerabeh Kahou / Pomegranate & lettuce Salad $9

Tea, Rice cookie and Iranian Nut mix / Ajeel, Chai va Shirini $5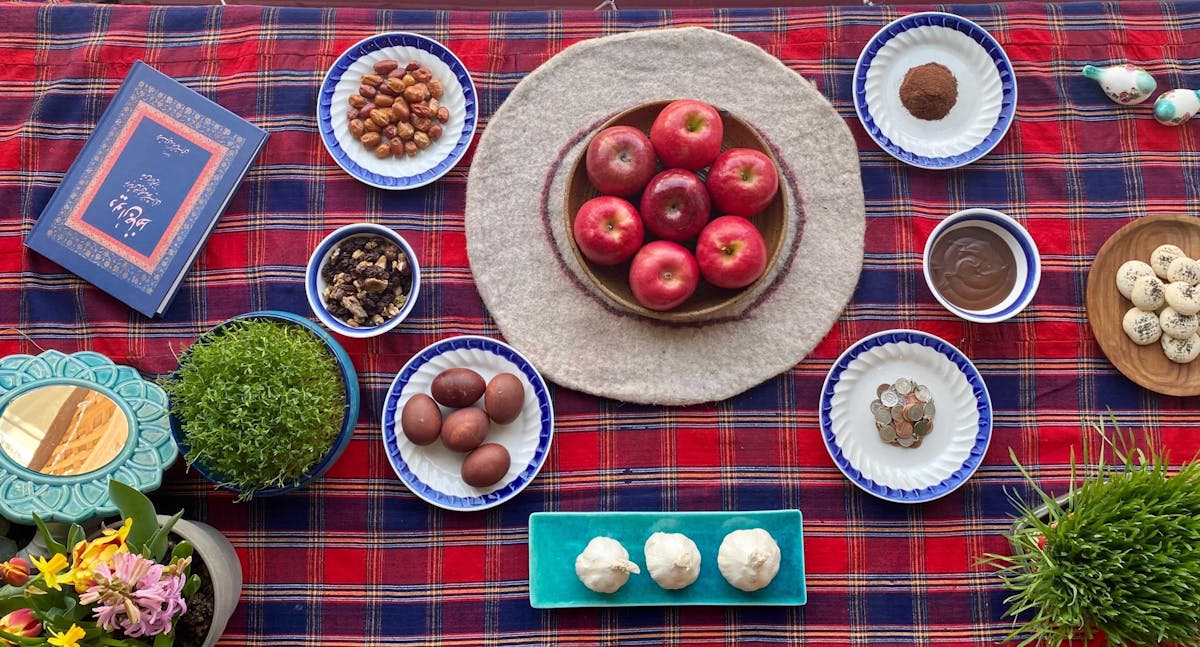 Slide 1 of 9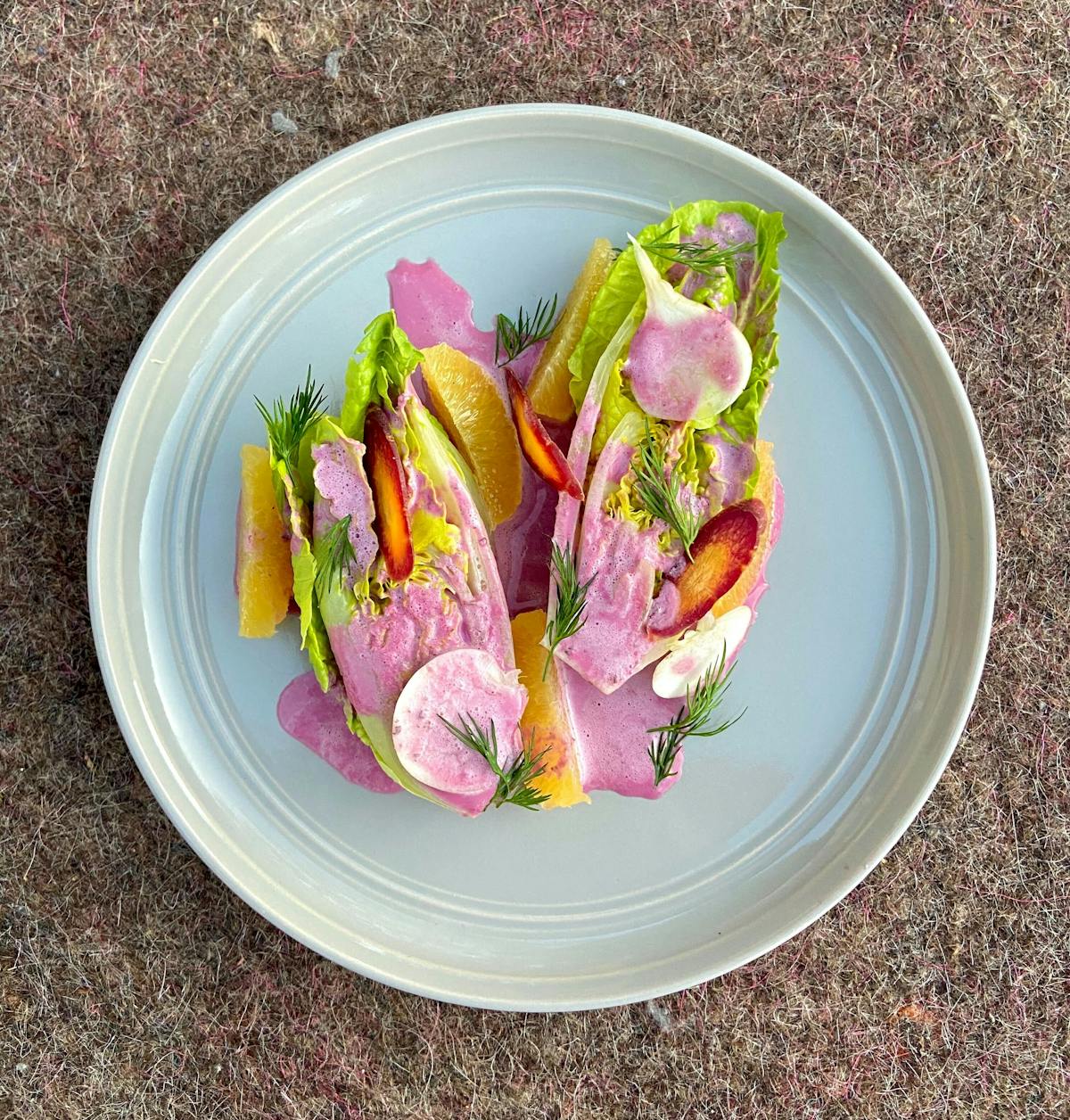 Slide 2 of 9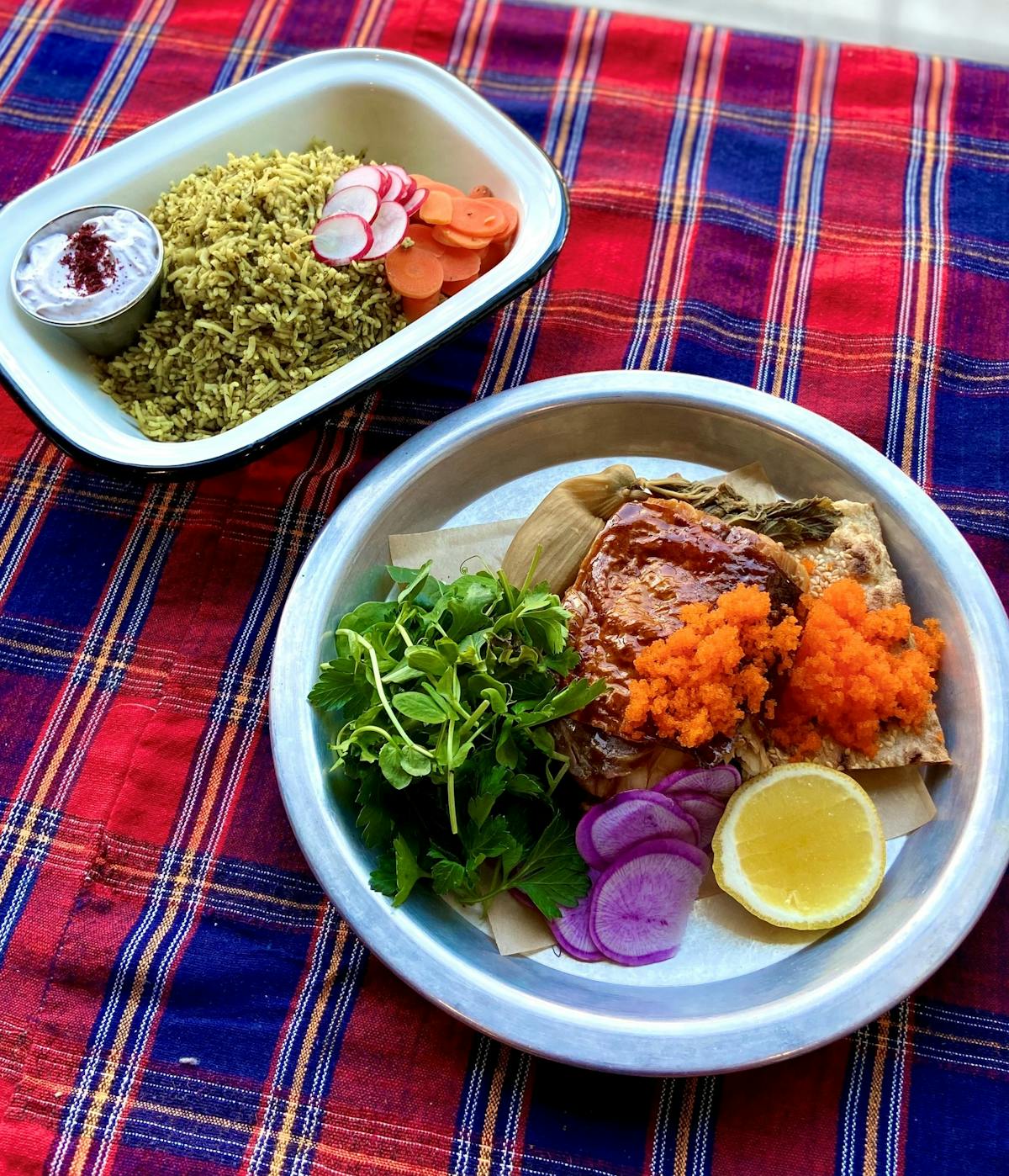 Slide 3 of 9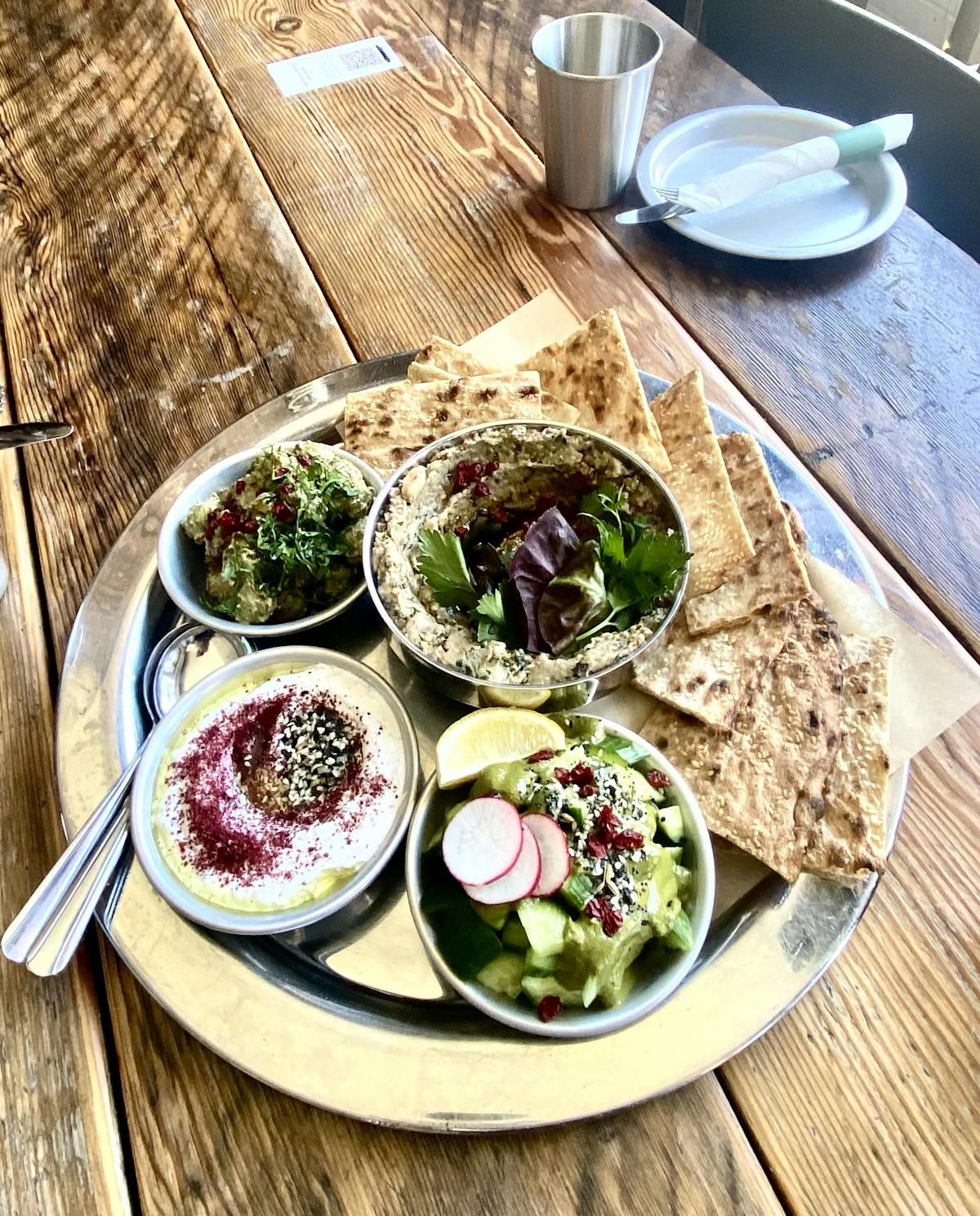 Slide 4 of 9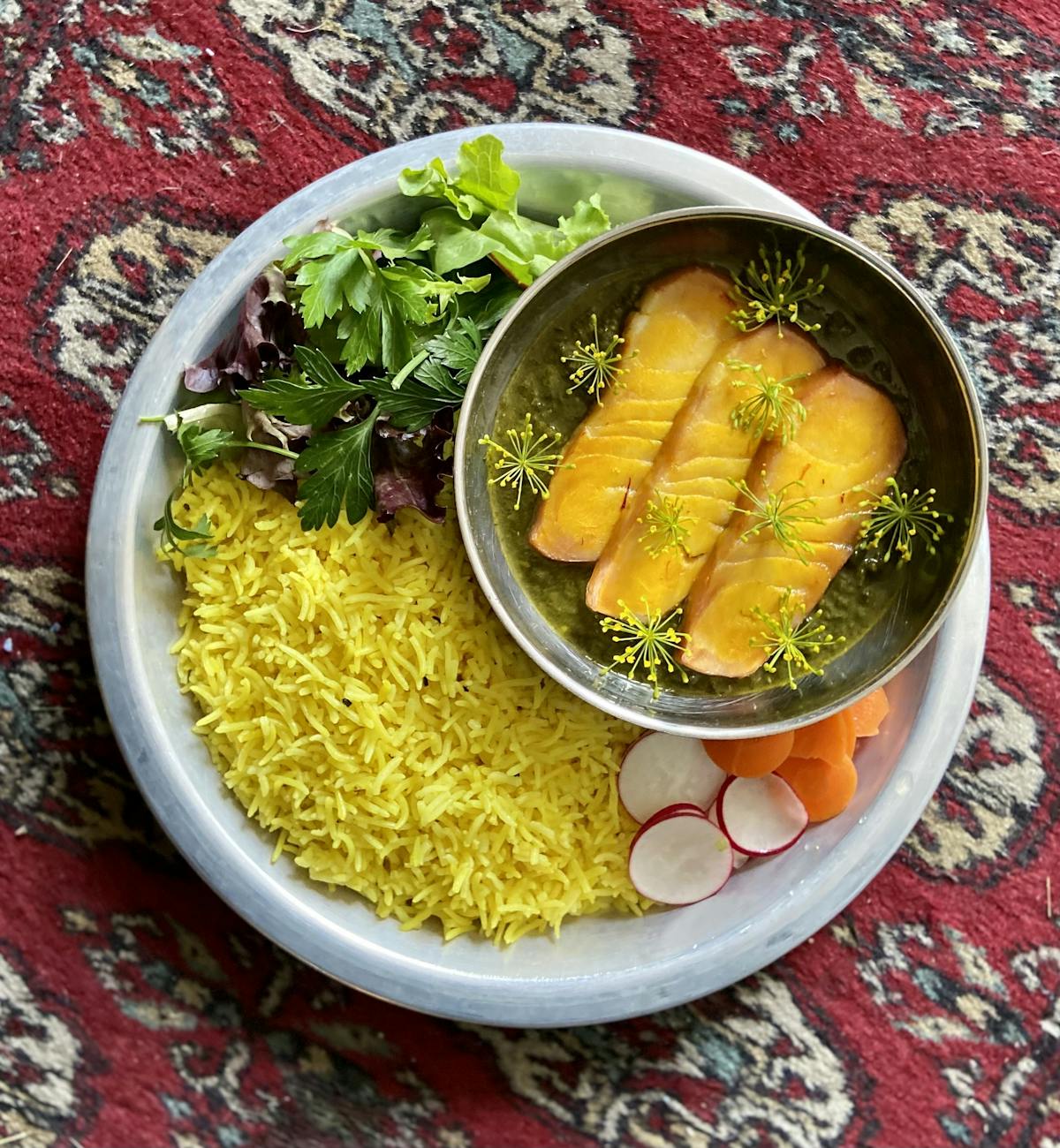 Slide 5 of 9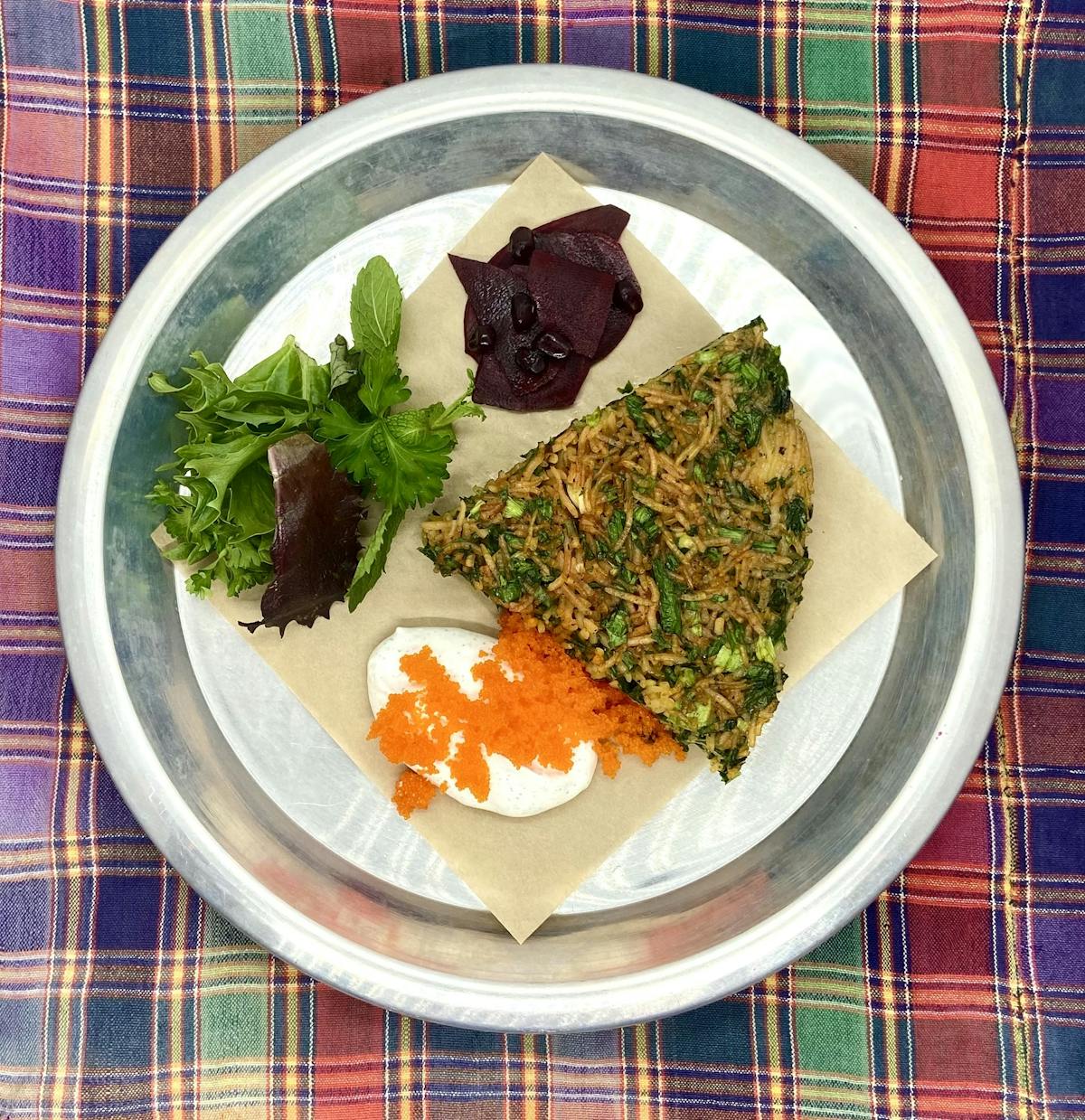 Slide 6 of 9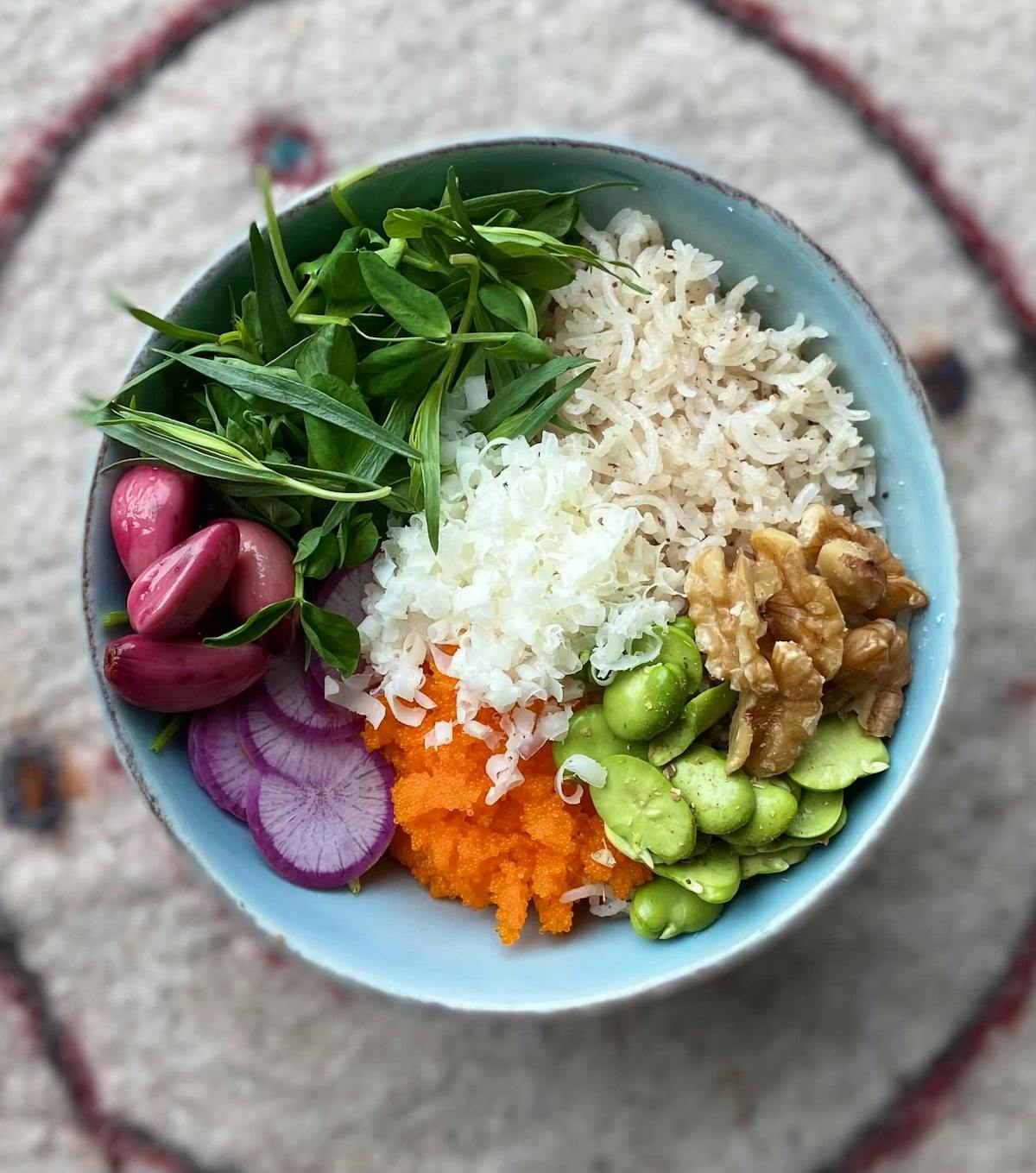 Slide 7 of 9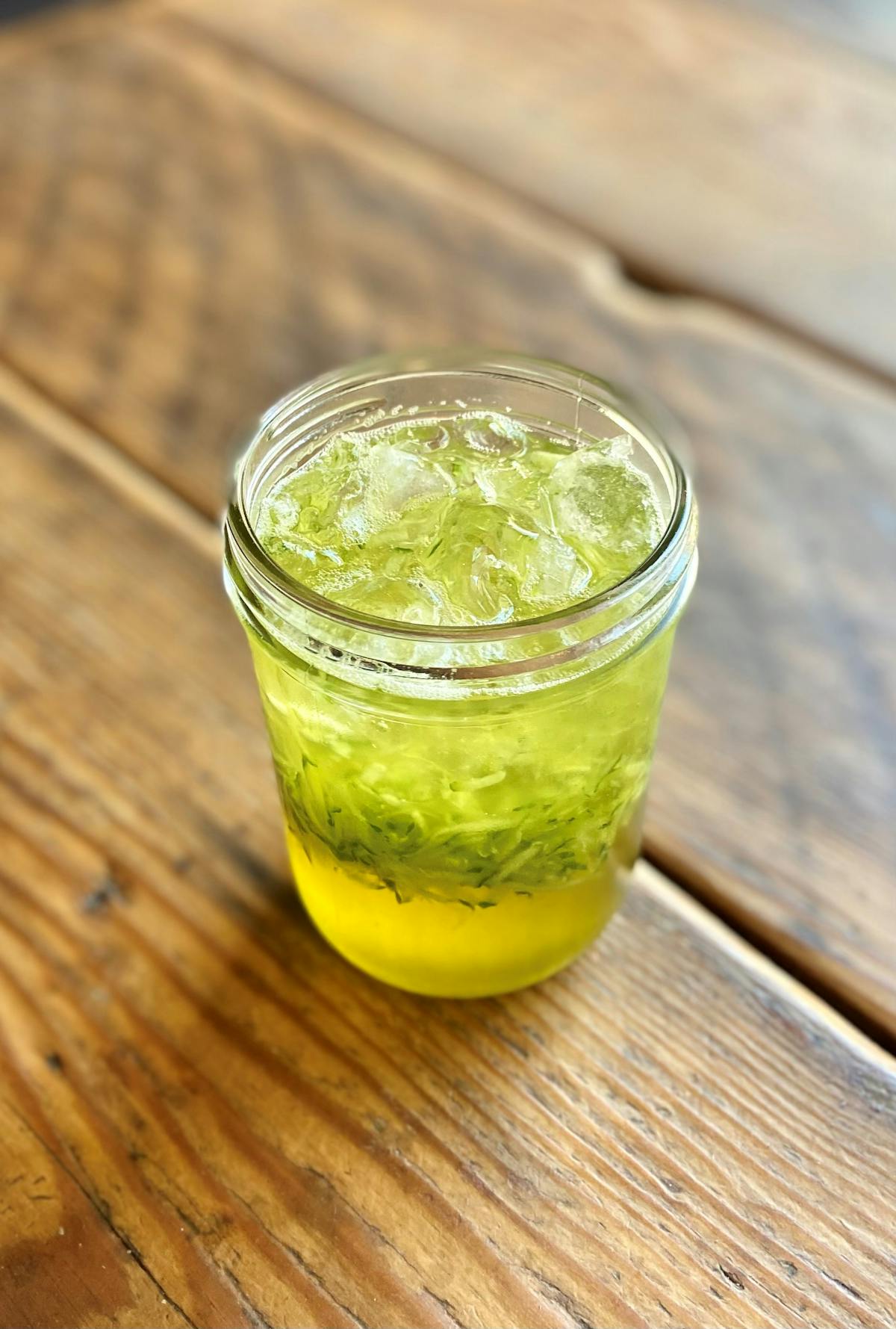 Slide 8 of 9
Slide 9 of 9