Main content starts here, tab to start navigating
Reviews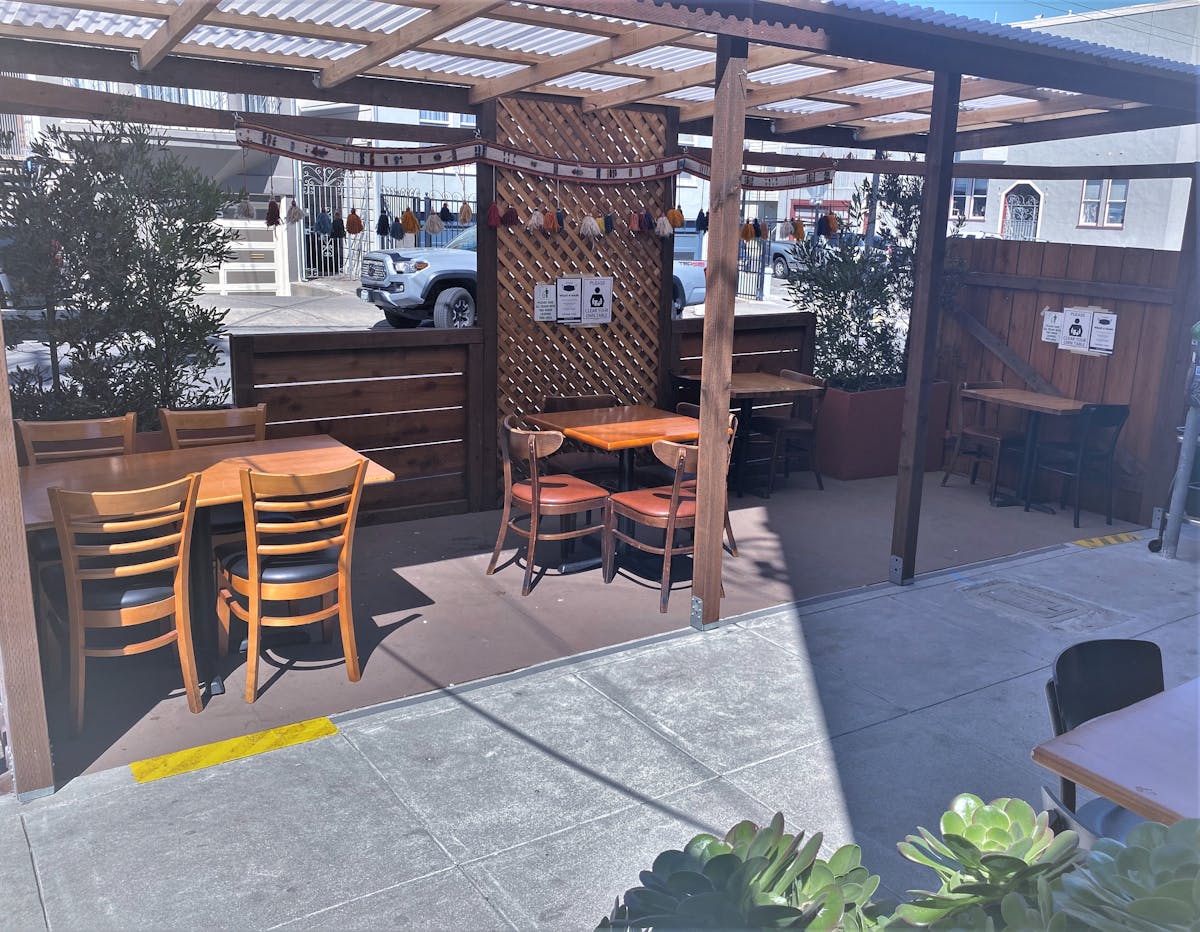 Christopher A G. 04/30/2021
This food is gorgeous--and it tastes as good as it looks. Intense flavors: smoky fish, herby cucumber salad, the tang of pomegranate in the walnut stew. My favorite item though (and a good accompaniment to the rest of these intense flavors) is the beet yogurt.

Be sure to order some rice (the turmeric rise was delicious) and extra sangak (flatbread). Some of the dishes say they come with sangak, but not much.
Local Guide by Sam Khandelwal 02/27/21
It's the weekend and you don't expect to find another restaurant that can truly elevate you. Guess what?

Persian food has been refined over 3000 years. Komaaj has turned it into a high end, gourmet experience at non-San francisco prices. Insanely good Persian food! The best I have ever sampled!

The menu is well balanced for vegan, vegetarians and carnivores alike. I wouldn't be surprised if this place takes off like Beit Rima did 2 years ago.

I decided to sample a bunch of vegan and veggie dishes. And judging by the flavors and high-end presentation worthy of a Michelin star, I can only imagine the meat based dishes are exceptional.

1) Sumac roasted chickpeas -
Comes with a slice of lemon. Light and perfectly spiced. Sumac doesn't overpower.

2) Pomegranate & Walnut Stew with Turmeric Rice - holy cow. The flavors are insane. What I love is that this dish isn't sweet or has one particular flavor that dominates your palette. It's multi-noted, and the stew tickles your taste buds as the perfectly cooked rice provides the depth and texture to complete the dish.

3) Side Bread // sangak - think of this as pita chips on steroids. They act as a crunchy complement to the stews, salads and marinated veggies.

4) Cucumber Salad - this is also available with lettuce. Refreshing and a great palette cleanser. The flavors are clean and the light spices allow the cucumber to shine.

5) Sumac Roasted Eggplant - I have never tasted anything like this. The eggplant doesn't taste starchy. Instead it gets a kebab like treatment. Pods well with the rice.

Overall my entire plate was a flavor bomb. This is a gem for 2021 and unless you try it soon, this place is likely to become very popular and have long wait lines. They have outdoor seating, and this being in a quiet mission neighborhood, has the ambience to make a great date night place.

Note: they are only open thu to Sunday. And close early by 8 pm. I ordered from the website before close and the food was ready. I appreciated how much care went into packaging and presentation. It survived a bike ride home.

Thank you Komaaj for giving me the best foodie experience of 2021! And all this for 40 busks!

I almost don't want to recommend you to others for fear that you will become too popular. That's a good problem to have during a pandemic :)
Mehrdad Azadan. 05/02/2021
EXCELLENT authentic food from Northern Iran. Absolutely delicious!
The chef is very knowledgeable about the Northern Iran's local food and its variety of recipes. He can explain how the same dish may have different ingredients in different cities of Northern Iran. The dishes are exquisitely prepared to delicately represent the local food.
The service is top notch and the food arrives in a timely manner.
Michele S. 04/25/2021
So exited to have this gem of a restaurant in the neighborhood!!!
Great place to have a full meal, or something smaller.... and the food is delicious, made and served with care.
They make their own delicious flatbread!
The owners and staff are very welcoming and friendly.
Also a good place to pick up interesting pantry items.
Great gifts for anyone you know who is into cooking... and eating!
Rhana H. 02/04/2021
I am Iranian-American and this is the best Persian food I have had outside of my grandmother's home. I would even dare to say that I enjoyed it a bit more. I even brought some Fesenjan to my Mamani and she had 5 servings! She agrees this place is legit. Incredible food, quality, and beautiful presentation. So grateful for this modern vegetarian-friendly Persian cuisine!
Luna K. 9/10/2020
I don't know where to start. On my last trip to bay area on labor days weekend, I came across this amazing place. As someone who grew up in persian family, I know what authentic persian food looks/tastes like and I was impressed by the quality of their food. I also had the chance to meet the chef and we had quick conversation about his journey. I was amazed by his talent and passion.
We had Marinated olives , Turmeric rice with walnut/ pomegranate stew and herb rice and honestly there were all above and beyond. If you are looking for cheap Kabob or persian fast food this is definitely not your place. I appreciate your amazing work and your efforts to show the community that PERSIAN FOOD IS NOT ONLY KABOB AND GHORME SABZI.
Joanna B. 7/25/2020
Just finished another amazing dinner from Komaaj. What a treat! I first got to enjoy their food at the pop up dinners they occasionally held, and was blown away by the complexity of flavors and beautiful presentation. I'm so glad I can still get to eat this delicious food thanks to their weekly takeaway meals. Incredibly, the presentation is still breathtaking even in a takeout box, and the whole experience is put together with such care--even dessert and tea are included. Servings are generous too. With a special dinner like this at home, you won't miss getting to dine out!
Areg G.
If you are an Iranian or not, you should give this place a try. My wife and I drove long distance for this event, and plan to do so in the future as and when possible. We even went back for breakfast this morning before leaving town.
Seydeh A.
We had a great time. The food selections were all authentic and delicious. The host, Hanif, is very attentive and friendly. This is our 2nd time around attending Chef Hanif's pop up kitchen Koomaj. I am sure we'll go back